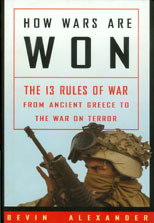 Click here to purchase from Barnes & Noble.
Click here to purchase from Amazon.com.
Cornwallis Falls into a
Strategic Trap in Virginia
Excerpt from How Wars Are Won: The 13 Rules of War—From Ancient Greece to the War on Terror, by Bevin Alexander, pages 216-17
On May 20, 1781, Cornwallis joined his army with a small British expeditionary force at Petersburg, Virginia, about eighty miles by road west of Hampton Roads. Cornwallis had moved up from Wilmington, North Carolina, giving up for the present a two-year effort to subdue the Carolinas. He tried to bring to battle a small American force in Virginia, but the commander, the French general, the Marquis de Lafayette, avoided the British. In July 1781 Cornwallis moved toward Old Point Comfort.
Hampton Roads presented a peculiar danger to the British: if Washington assembled a large army in Virginia before Cornwallis could be reinforced, and if French naval forces could block the narrow entrance to the Chesapeake, then Cornwallis would be isolated and compelled to surrender. The Americans would thereby exercise the rule of blocking the enemy's retreat, closing off any possibility of supply or retreat for Cornwallis's army.
General Washington fully appreciated the opportunity, and, upon learning of Cornwallis's movement toward Hampton Roads, began to pressure the French to send a naval force to close off the narrow entrance into the Chesapeake (between Cape Charles on the north and Cape Henry on the south, also known as the Virginia Capes).
<< More 'Early Wars' Excerpts
<< Back to top