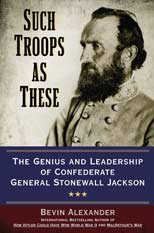 Such Troops as These: The Genius and Leadership of Confederate General Stonewall Jackson
Click here to purchase from Barnes & Noble.
Click here to purchase from Amazon.com.
Welcome to BevinAlexander.com
This site presents information on the immense amount of research and writings by acclaimed Military Historian Bevin Alexander. The purpose of this site is to provide historians, researchers, and students with some of the most comprehensive resources available on military history—including the Civil War, the Korean War, China, World Wars I and II, and military strategy from ancient Greece to the war on terror.
In this site you will discover more about Bevin Alexander and his work, plus find a vast array of material on military history and foreign policy, including:
Browse the site's many pages by using the navigation bar located at the top of each page. If you have trouble finding what you are looking for try using the Search the Site feature in the navigation bar to enter keywords and retrieve relevant pages.